49ers' QB Jimmy Garoppolo suffered a fracture in his left foot during the first quarter of yesterday's win over Miami and will miss the remainder of the 2022 season.
The injury occurred during San Francisco' first possession. With 11 minutes remaining in the first quarter, on a 3rd-and-six, Garoppolo dropped back to pass but got swarmed by Dolphins' defenders Jerome Baker and Jaelan Phillips. As the two dragged him down, Garoppolo's left foot was caught under Phillips' knee causing the fracture.
Garoppolo managed to limp his way to the sideline as the punt team came on. He entered the medical tent, where he stayed for a few minutes, before a medical cart was brought out. He was taken to the locker room and replaced by rookie Brock Purdy. Before halftime, Garoppolo had been ruled out for the remainder of the game.
Head coach Kyle Shanahan said after the win that Garoppolo "broke a few things" in his left foot and required season-ending surgery.
Generally, surgery is required for foot fractures when the fracture itself is displaced. A displaced fracture occurs when pieces of bone move out of alignment, creating a gap around the fracture. This often comes with additional damage to the ligaments, tendons, and muscles surrounding the fracture.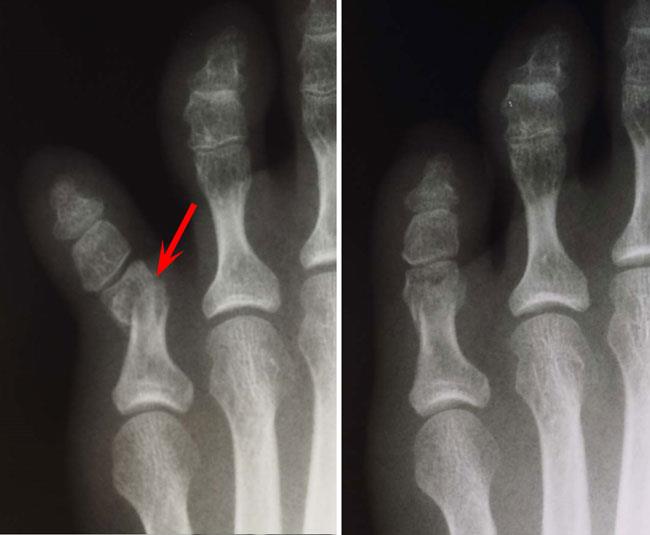 Surgery will involve the structures – ligaments, tendons, muscles – being repaired, and the bones being realigned so they can heal properly. Depending on the severity of the damage, recovery can last from weeks to months.
Given how the 49ers have ruled Garoppolo out for the season, it's safe to assume the damage is serious. Also, foot injuries need to be managed meticulously, especially for athletes. If a player returns from foot surgery too early – often pain goes away before the healing process is completed – they are risking another injury or making the preexisting injury worse.