The #3 Horned Frogs can secure their spot in the College Football Playoff on Saturday when they face off against #10 Kansas State. The Wildcats can't make it into the playoff, but they can win their first Big 12 title since 2012 and end TCU's chances at an undefeated season.
These two purple-clad teams have met before. During Week 7 of this season, these two met in Fort Worth and Kansas State dominated the first half, holding an 11 point lead at the end of the second quarter. It was the fourth consecutive game the Horned Frogs played against ranked opponents so they weren't fazed by the deficit.
TCU scored on their opening drive to cut Kansas State's lead to just four points. After the Wildcats missed a 44-yard field goal attempt on the ensuing possession, the Horned Frogs went 74 yards on just four plays to score another touchdown. The final play of the drive was a 55-yard bomb from QB Max Duggan to WR Quentin Johnston. The extra point was good and TCU took a 31-28 lead; they never looked back.
The Frogs' defense shut Kansas State out in the second half, while the offense ran the score up to 38-28. It was the first time TCU had beat the Wildcats in their last three meetings. In all of those games, they failed to score more than 17 points.
At the center of the Frogs' success is Duggan, who was the starting QB last season before getting beat out by freshman Chandler Morris ahead of the 2022 season. Morris suffered a sprained knee late in the third quarter of TCU's season-opening 38-13 win at Colorado. Duggan came on in relief and quietly emerged as a fringe Heisman candidate thanks to his consistent play.
On the year, Duggan has thrown for 3,070 yards and 29 touchdowns (#11 in FBS) to just three interceptions (#8-tied). His 66.6% completion percentage ranks #21 in the country and his 13.89 yards per completion ranks #11.
Fellow offensive weapons RB Kendre Miller and WR Quentin Johnston are also enjoying their best seasons. Miller has 1,260 rushing yards (#17 in FBS) and 16 touchdowns on the ground (#6-tied), and Johnston has 764 receiving yards to go with five touchdowns. In addition to Johnston, nine other receivers have caught touchdown passes.
In summation, the Horned Frogs have put together an incredibly balanced and potent offensive attack, with an average of 274.8 passing yards and 198.5 rushing yards per game. Their average of 41.3 points per game is #4 in the nation, and is a testament to that balance.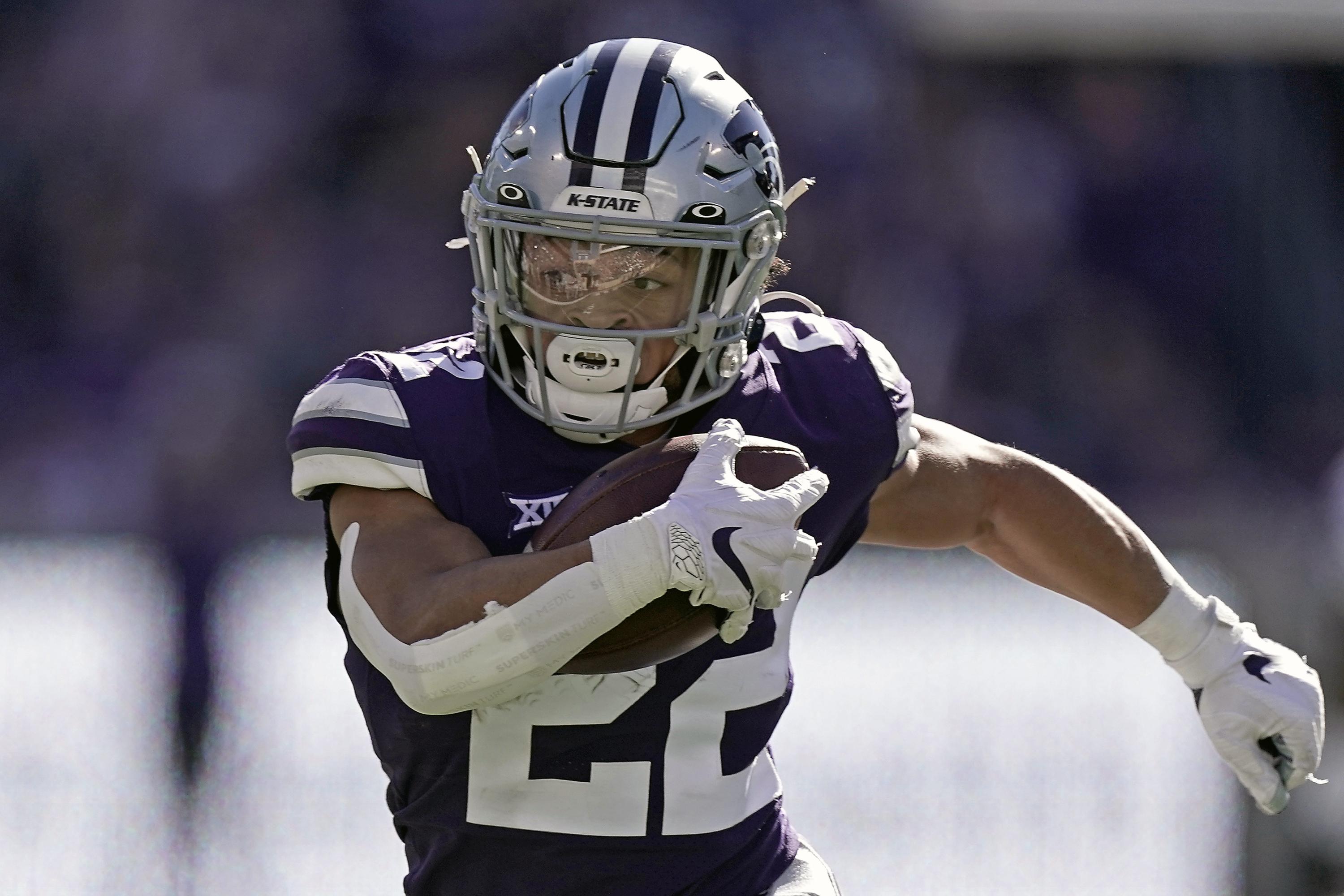 Kansas State deploys a similarly balanced offense – but they don't score as much as TCU – with 33.4 points per game (#34 in FBS). That being said, over the last five contests the Wildcats have averaged 40.2 points, scoring 47+ in three of those games.
The focal point of their offense has been RB Deuce Vaughn, whose 1,295 yards ranks just ahead of Kendre Miller at #16 in the nation. After scoring 18 touchdowns last year, Vaughn has struggled to find the endzone at times this season, scoring just seven times. That hasn't limited his efficiency though, as his average of 5.29 yards per attempt ranks #53 in the country.
Where they've struggled, is in the passing game. Currently, the Wildcats average 211.5 passing yards per game (#93 in FBS) and they've bounced back-and-forth between QBs Adrian Martinez and Will Howard. Both have looked good at times, but they only have one game with more than 300 passing yards between them.
On the other side of the ball, K-State has the edge. TCU's defense gives up 383.5 yards per game (#74 in FBS) while the Wildcats allow 357.2 (#45). They also have a +14 turnover differential (#2-tied in FBS), with the Horned Frogs just behind them at +10 (#8).
That edge for the Wildcats won't be enough to hold off the Frogs, and we expect them to win this game and lock up a spot in the College Football Playoff. They've played great football all season, bending but never breaking. That trend should continue this week against Kansas State.
This game is likely to go similarly to their matchup in Week 7, except Kansas State is unlikely to have a double-digit lead.