Pelicans star Zion Williamson suffered a setback in his hamstring recovery and is expected to miss even more time as a result.
Williamson, who was named a Western All-Star this season, hasn't played since January 2 after suffering a right hamstring strain against the 76ers. In the immediate aftermath, the team announced that he would miss multiple weeks, but they didn't specify a timeline. The only information provided was that he would be re-evaluated after three weeks.
After Williamson was evaluated on January 24, the Pelicans said they believed the hamstring was healing as intended but that they didn't believe he was ready to return. Williamson was given an additional two-week recovery period after which he would be evaluated once more.
That brings us to his current status. Pelicans Executive VP of Basketball Operations David Griffin said on February 12 that Williamson aggravated his right hamstring and will be sidelined for "several" more weeks.
Before this, Williamson had advanced through his rehab to 3-on-3 work, which is generally considered the first big step towards a return. It's assumed that he aggravated the strain during this work, causing the setback.
With Williamson slated to miss additional time, let's take a look at the injury itself and why it's so difficult to deal with, as well as Williamson's injury history.
Hamstring strains in the NBA generally result in a 10-14 day absence if it's mild, while moderate strains often take around three to six weeks. Severe strains are where things get tricky, as they are closer to a rupture and can take months to heal.
The hamstring muscle group consists of the semitendinosus, semimembranosus, and biceps femoris, all of which are large muscles that require a lot of energy to get going. They play a major role in running, jumping, acceleration, and agility. Specifically when it comes to running, the hamstrings are working nonstop.
A strained hamstring means the muscle fibers are compromised – stretched or torn – to some extent. When players try to play through a strained hamstring, they are risking a full tear. Grade 1 (mild) strains have minimal compromised fibers. Grade 2 (moderate) strains involve roughly half the fibers across one or more muscles being compromised. Grade 3 (severe) strains are anything greater than a Grade 2 and can include full ruptures.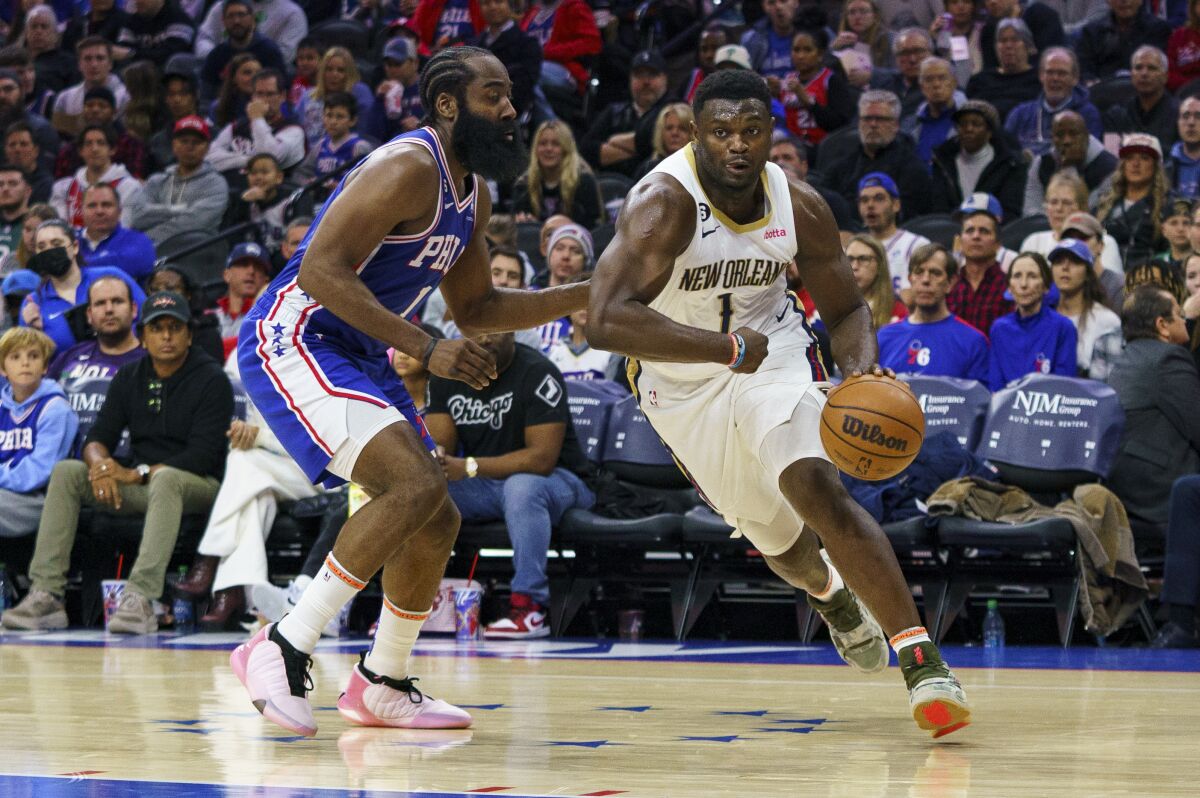 Initially, we diagnosed Williamson's strain as a Grade 2. When he returned to 3-on-3 work, it's likely he overworked it and caused the aggravation. Now, we have diagnosed it to be a Grade 3 strain.
Looking at Williamson's injury history, it's been a combination of bad luck, poor injury management, and poor conditioning. This isn't us jumping on the Williamson hate train, rather we think there have been some glaring issues that were overlooked.
Since entering the league in 2019, we've cataloged 17 separate injuries for Williamson, the majority of which have been lower body. It can be difficult to trust if the listed height and weight of each player is accurate, but if Williamon's estimated weight of 284 pounds is accurate, it makes some sense why his lower body seems to get beat up.
Looking at players across the league, it does appear that Williamson's weight is a bit of an anomaly. LeBron James is a similar height, and his reported weight is 30 pounds lighter. Nikola Jokic is listed at 284 pounds, but is five inches taller than Williamson and plays much slower. Similarly, Joel Embiid is listed at 280 pounds. If we look at players with Williamson's listed height (6'6"), we see the next closest players in terms of weight are Kenneth Lofton (275 lbs), Stanley Johnson (242 lbs), and Grant Williams (236 lbs).
Of the players listed, LeBron is the only one who has a similar play style and athleticism. That being said, in the world of sports there are anomalies and needless to say LeBron is one of those.
When it comes to Williamson's metrics in our database, things don't look great in the short term. His Injury Risk is very High (54%) and his Health Performance Factor is exceedingly Poor (10.5%). We have his Optimal Recovery Time at 38 days from February 13, meaning we think he should return in mid-to-late March.
It is an unfortunate set of circumstances surrounding Williamson. He's been named an All-Star twice now and when he plays it's apparent why. But he's only played in roughly 40% of the Pelicans games since he was drafted due to injuries. It's easy to say that he should lose weight or slow down his style of play, but that isn't exactly fair and there is no guarantee those things will keep him on the court longer. Most of his injuries have been normal, wear-and-tear style injuries that could happen to anyone.
He's still just 22 years old, so there is more than enough time for him to figure out what works best for him. It likely won't be an easy road, but he's proven himself to be a well composed and intelligent mind when it comes to basketball, so there should be plenty of (maybe cautious) optimism surrounding him going forward.